Hot Tub Hire Wales
Welcome to hot tub hire Wales. We are one of the leading inflatable hot tub hirers in Wales with over 30 hot tubs available for either hire or purchase. We offer four-man and six-man hot tubs with all the latest models and safety features so that you can rest assured that your children will be safe and every hot tub is clean and sanitised for your use. We know you'll love our hot tub hire services. They're ideal for all kinds of occasions - you could take the plunge with some friends and family members during a stag or hen party, at a birthday or for any other adult celebration, book a hot tub for your staff to help them unwind during a corporate event or teambuilding experience, or arrange a spa bath for you and your partner for a romantic week away.

Trusted hot tub hire near me
We have been trading for over 17 years and with our 24-hour helpline on service, you are guaranteed nothing will stop your party weekend relaxing.
Our hot tubs can pretty much be set up anywhere as long as they're flat. With our no first hassle set up it is easy as 1 2 3. Just tell us where you like yet your property and we will do the rest also remembering that the surface has to be clean and free of any debris and dog mess the surface should also be flat.
Only the best hot tub brand used
We confidently use the Intex brand that is not to be mistaken as one of the cheap nasty imitations that are also on the market at a fraction of the cost. All Intex hot tubs have the latest technology both with construction and the electric heater/control unit which makes it robust and hardy.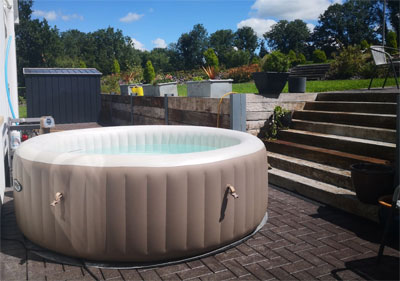 With these tubs being inflatable, please do not mistake this as being a cheap thin plastic that would easily puncture. Thanks to the technology and their robust construction there is not much chance of having any problems.
The best hot tub rental company in Wales. Immaculately clean, high-tech spas for the ultimate hot tub experience.
Hot Tub Hire Wales
Relax and unwind in our fully functional hot tubs. Hot Tub Hire in Wales offers portable and inflatable hot tubs that can be set up pretty much anywhere. Make the most of your relaxation time and get a first-class experience delivered straight to your home. Sounds good?
If you are looking or party or event catering then call our sister company https://www.hoggetshogroasts.com/ or simply ask about party or event catering when you book your hot tub.